The eMERGE Network brings together researchers with a wide range of expertise in genomics, statistics, ethics, informatics, and clinical medicine from leading medical research institutions across the country. Each center participating in the consortium is uniquely situated to provide critical resources to this highly collaborative and productive network. Each site combines a biobank or study cohort with extensive genomic data and access to clinical data derived from electronic medical records. Sites are geographically dispersed and have diverse patient populations, including two sites focusing specifically on pediatrics. Member sites include: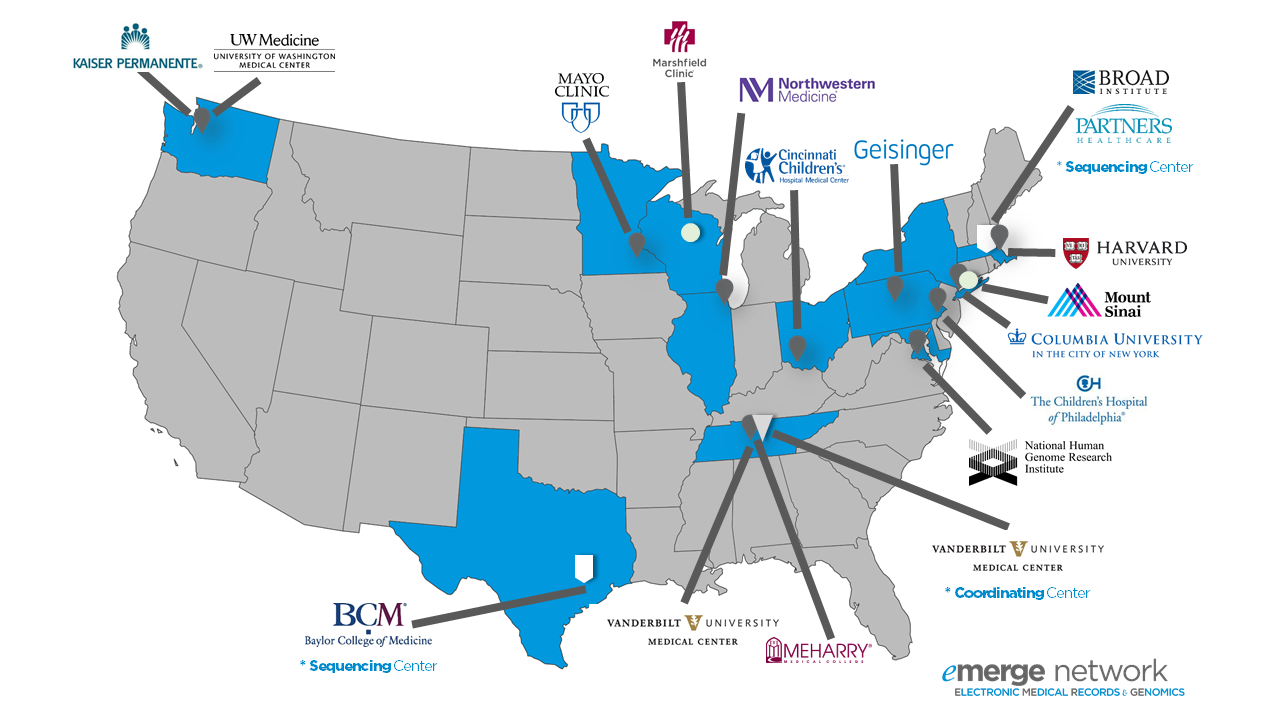 Participant Sites: Project Overview
Click on each site below for more information:
Children's Hospital of Philadelphia (CHOP)
Principal Investigator: Hakon Hakonarson, MD, PhD
CAG is one of ten Centers for Emphasis of the Children's Hospital of Philadelphia (CHOP). The CHOP Health Care Network includes over 50 practice sites throughout Pennsylvania and New Jersey which are live on the EpicCare EMR system. CHOP has assembled the components of the country's largest pediatric integrated delivery system, supporting >1.1 million visits/year within the primary and specialty care networks, community-based inpatient pediatric and neonatal programs, a rehabilitation hospital, and a home care service. It provides acute- and well-care to patients in urban, rural, and suburban settings. CAG's mission is to develop new and better ways to diagnose and treat children affected by both common and rare complex medical disorders. We aim to discover genetic causes for the most prevalent diseases of childhood including asthma, autism, diabetes, epilepsy, obesity, schizophrenia, and pediatric cancers. Ultimately, CAG's objective is to generate new diagnostic tests and to guide physicians to the most appropriate therapies.
Cincinnati Children's Hospital Medical Center (CCHMC)
Principal Investigator: John Harley, MD, PhD
CCHMC has proposed 17 ambitious initiatives for eMERGEIII. The major goals are to evaluate the role of over 100 genes in the genomes of 2,500 patients who agree to receive their test results, identify candidate causal somatic variants in 4,000 next generation sequencing (NGS) targeted gene panels obtained in the course of clinical care for patients at CCHMC, to develop, validate, and distribute new electronic health record (EHR)-based phenotype algorithms informed by natural language processing using heuristic and machine learning methods, to perform various pilot projects to determine the perspectives of patients, guardians, and physicians regarding return of genomic results, to integrate clinical decision support processes into the electronic medical record, and to explore and integrate ethical, legal, and social considerations into EHR and clinical care decision making processes as genomic medicine advances.
Columbia University
Principal Investigators: Chunhua Weng, PhD, MS; Ali Gharavi, MD; George Hripcsak, MD, MS
Columbia University has established Precision Medicine as a major university-wide initiative, and has a standards-based clinical data warehouse containing 26 years of comprehensive, longitudinal health records for over 4.5 million racially, ethnically, and socioeconomically diverse patients and a federated biobank that contains a multiethnic cohort of 26,310 individuals with their samples linked to their EHR data. The Columbia eMERGE team will use genomic information from DNA sequencing and electronic health records to find and study genes and genetic variants that contribute to increased risk for medical conditions such as chronic kidney disease, heart failure, breast cancer, liver disease, autoimmune disease, stroke, birth defects and neurodevelopmental disorders. The goal for this research is to make disease definitions more precise, identify patients who need further genomic study and testing, and better predict their disease risks. Columbia will also work with patients, families and physicians to develop ways to discuss such risks and treatment decisions.
Geisinger
Principal Investigators: Marc Williams, MD
Geisinger is an integrated, comprehensive health care delivery system that serves a large, stable, mainly rural population in north central and northeastern Pennsylvania. Geisinger has a fully functional and integrated electronic medical record (EMR) system, and is a recognized leader in the use of EMR and health information technology. Geisinger has received national accolades for its commitment to developing and testing information technology-enabled innovations in health care delivery. Geisinger's infrastructure and experience in this area provide a paradigm for incorporating genomic data into clinical care. To leverage the health system's assets for genomic medicine Geisinger launched an innovative biobanking program, the MyCode Community Health Initiative, a large, central repository of patient samples (blood, DNA, serum and tissue) that is linkable to data in the Geisinger EMR for broad research use in a manner that protects confidentiality of patient information. More than 90,000 Geisinger patients have consented to participate in the biobanking program which includes consent for return of clinically relevant results. A partnership with Regeneron pharmaceuticals is supporting exome sequencing of the participants. At present over 50,000 exomes have been completed and are available for analysis. The EMR-linked biospecimen bank is being used for genomic research in cardiovascular disease, obesity, cancer, autism/intellectual disability, pharmacogenomics and other disorders with significant public health impact.
Harvard University
Principal Investigators: Elizabeth Karlson, MD; Shawn Murphy, MD, PhD; Jordan Smoller, MD, ScD; Scott Weiss, MD, MS
The eMERGE III Clinical Center at Partners HealthCare leverages a large biobank, clinical data in the electronic medical records (EMR) for >4 million participants from the largest integrated health care provider in New England, advanced bioinformatics expertise and state-of-the-art genetic analysis. We have three broad aims as part of our proposal: (1) Aim 1. Discovery. We will test the hypothesis that common and rare variants from a custom chip including 50,000 loss of function (LoF) alleles will be associated with cardiovascular, neuropsychiatric and immune-mediated phenotypes derived from the Partners EMR. (2) Aim 2. Penetrance and Pleiotropy. We will test the hypothesis that sequencing a set of established genes or loci will allow us to discover additional variation, and define penetrance and pleiotropy using EMR phenotypes. Rare variants in genes selected by the eMERGE network will be studied for penetrance and pleiotropic outcomes by PheWAS and chart review. (3) Aim 3. Implementation. We will test the hypothesis that physicians will alter their surveillance and treatment of patients based upon voluntary return of actionable variants to provide safe and cost-effective benefits to patients. We will screen our entire Biobank population of 25,000 individuals for pathogenic variants in the LDLR gene, the leading genetic cause of premature coronary artery disease, and conduct an exploratory trial in disclosing this information. Biobank participants with pathogenic variants in LDLR will be offered enrollment into a randomized trial, in which their finding will be CLIA-confirmed, and in one arm, this result will be communicated to their physicians through the EMR. Over one year, we will collect the following outcomes through participant surveys and EMR queries: physician visits, laboratory testing, changes in medication prescriptions, LDL levels, medical costs and the number of family members screened and treated as a result of the intervention. We will collaborate with the entire eMERGE III Network to incorporate what we learn from these 3 grant aims into large-scale implementation protocols for the genes selected by the Network for sequencing. We are committed to advancing personalized medicine through our eMERGE III research.
Kaiser Permanente Washington with the University of Washington and the Fred Hutchinson Cancer Research Center (KPW/UW)
Principal Investigators: Eric Larson, MD, MPH (KPW); Gail Jarvik, MD, PhD (UW)
The Seattle eMERGE project aims to bring personal genomics to practice settings by taking advantage of the extensive electronic medical record (EMR) and biorepository of Kaiser Permanente Washington (KPW), including a pharmacy database and longitudinal data on an aging population. Researchers from the Kaiser Permanente Washington (KPW)/University of Washington (UW) eMERGE team will focus on specific aims designed to advance integration of genomic data into clinical practice with a focus on clinical discovery and implementation on Mendelian forms of colorectal cancer and/or polyposis (CRC/P) and incidental findings in other actionable genes. Our aims will also allow us to address challenges involved in bringing genomic medicine into standard medical care. Our focus on CRC/P, and quantitative traits and incidental findings (IF) in other actionable genes represents a unique opportunity to move the field forward towards the goal of bringing genomic medicine into effective, standard medical practice in an everyday community practice setting. Algorithms developed in eMERGE Phase III will be used to combine genome-wide association studies with phenotypes mined from EMRs to discover new polymorphism-phenotype relationships. Target phenotypes are CRC/P, HDL/Triglycerides, Total/LDL cholesterol and Depression. Data will also support phenotypes investigated at other eMERGE sites. To create a model for introducing genomics into clinical practice, we will develop intuitive, comprehensive reports to return CRC and other genes deemed actionable by the American College of Medical Genetics and Genomics (ACMG). We will incorporate stakeholder input and then to implement integrated processes and tools into an integrated delivery system with a focus on CRC/P and Long QT syndrome. We will develop and evaluate educational outreach and online resources. We will also evaluate the effectiveness and economic impact of result return to patients and their families by implementing a novel tool to increase family communication of CRC genetic results and evaluate the economic impact and cost effectiveness of this tool as well as of returning IF(s).
Mayo Clinic (Mayo)
Principal Investigators: Iftikhar Kullo, MD; Richard Sharp, PhD
Individualized medicine is one of Mayo Clinic's foremost strategic priorities. The Mayo Center for Individualized Medicine is an institution-wide strategic initiative that includes comprehensive, accurate and accessible clinical data; support for robust biobanks of annotated biospecimens; laboratories charged with biomarker discover and development; state-of-the-art technologies for data sourcing; enterprise infrastructure for high throughput data transport and management; robust analytic and interpretive computational tools and expertise in translation of data into applicable clinical tools; and effective clinical implementation by divisions, departments and centers in Mayo Clinic. The electronic medical record (EMR) can be leveraged for high throughput phenotyping of large numbers of patients for genomics research. As part of eMERGE I, Mayo used EMR-based algorithms to enable genome wide association studies (GWAS) of several primary and network-wide phenotypes. Within eMERGE II, Mayo is expanding and validating their library of electronic phenotyping algorithms. A major focus is to translate recent GWAS findings into clinical practice.Phenotypes of interest include: cardiorespitory fitness (a powerful marker to adverse outcomes) and response to statins (a commonly used drug class). Additionally, the susceptibility of two common conditions are being identified: venous thromboembolism and atrial fibrillation. Other efforts include the creation of risk communication tools, implementation into the EMR, and a randomized trial investigating patient responses to genotype informed risk.
Meharry Medical College
Principal Investigator: Samuel Adunyah, PhD

Meharry Medical College (MMC) is the nation's largest private, independent, historically black academic health center dedicated solely to educating minority and other health professionals. The Meharry Translational Research Center (MeTRC) was established to expand and strengthen the overall research infrastructure for conducting and promoting clinical and translational research in health disparities, with a major emphasis to reduce or eliminate disease burden in minorities regarding inflammatory diseases, HIV/AIDS, diabetes/obesity, cancer and neurological diseases. MeTRC has synergized with several ongoing research initiatives, including: Research Centers in Minority Institutions (NIMHD), Meharry-Vanderbilt Alliance, Vanderbilt-Meharry CTSA (NCATS), MMC Center for AIDS Health Disparities Research, MMC Center for Women's Health Research, and Meharry-Vanderbilt-Tennessee State University Cancer Partnership (NCI).
Meharry will strengthen eMERGE's diversity by recruiting from a predominantly African American population (n=500) and obtaining blood samples for DNA extraction for germ-line sequencing. Meharry is targeting affected and high-risk cohorts of breast cancer, prostate cancer, colorectal cancer and lung cancer. Meharry aims to return results to patients and physicians through the electronic medical record with the goal of improving health outcomes within the community.
Northwestern University (NU)
Principal Investigators: Rex Chisholm, PhD; Maureen Smith, MS
Northwestern University is dedicated to translational research efforts and has focused efforts over the last several years on improving the informatics, clinical, and research enterprise. Northwestern has developed a range of phenotypes that will allow the assessment of patient and physician attitudes towards the utility of genetic information in predicting disease susceptibility, drug response and therapeutic outcomes. Based on these consultations, Northwestern developed a modified quality improvement model for determining, in a pilot study, which genotypes might be most valuable to present in a clinical care setting. A consent model and associated educational methods in support of providing experimental subjects with genotype information in a clinical encounter were developed, including CLIA certified re-genotyping of participants who were previously genotyped for research purposes. Northwestern utilized a widely-deployed, commercial EHR, EPIC, and developed technical approaches for integrating genetic variation data into the health record and effectively presented these results using point-of-care, decision support tools to physicians. A goal of this effort is was to develop best practices collaboratively within the network, for reporting of genetic variation data and developing local practice guidelines for using genetic data in primary care physicians and their patients, defining the regulatory issues and then disseminating lessons learned and best practice recommendations.
Vanderbilt University Medical Center (VUMC)
Principal Investigators: Dan Roden, MD, Digna Velez Edwards PhD, MS, Wei-Qi Wei MD, PhD
Vanderbilt University Medical Center has embraced Personalized Health and Healthcare as a key pillar of our Research Strategic Plan. This institutional commitment has taken multiple forms: support of faculty in key disciplines such as genomics, informatics, ethics, privacy science, and clinical pharmacology. VUMC's team has contributed importantly to progress in multiple areas across eMERGE, including developing and deploying phenotype algorithms; developing and managing the genotype quality control pipeline for the network (eMERGE I); discovering new genotype-phenotype relations in VUMC and cross-network datasets; actively participating in the PGx clinical implementation project, community consultation, and return of results initiatives; developing methods to resolve tensions between data access and individual privacy; developing sampling methodology for the CERC survey; and developing new software tools for the field, including for developing and validating phenotypes, de-identification and for the phenome-wide association study paradigm ("PheWAS").
eMERGE Network Coordinating Center (CC)
Principal Investigators: Josh Peterson, MD, MPH (VUMC)
The eMERGE Network Coordinating Center (CC) is located at Vanderbilt University Medical Center. The Coordinating Center will focus on three major areas: accelerating phenotype algorithm development and sharing across the Network, expanding methods to integrate high quality genomic information across the Network and into the EMR, and expand and accelerate methods to determine re-identification risk and levels of privacy for the Network. The CC also provides a suite of support to the Network including:
–Organize and track program-wide activities: maintain and disseminate network metrics, including the master calendar, network timelines, publications lists, membership contact information, and email distribution lists.
–Event planning support: organize face-to-face Steering Committee meetings and other in-person events.

–Facilitate scheduling and organization of committees and activities: schedule meetings and events for the Steering Committee, working groups and subgroups.

–Communications support: participate in all conference calls; collaborate with leadership to develop meeting agendas, and generate & distribute meeting minutes.
Central Sequencing & Genotyping Centers (CSGs)
Click on each site below for more information:
Partners Healthcare with Broad Institute
Principal Investigators: Heidi Rehm, PhD (Partners); Niall Lennon, PhD (Partners/Broad)

The Partners HealthCare Laboratory for Molecular Medicine (LMM) and the Broad Institute, together, serve as one of two centralized genome sequencing and genotyping facilities in Phase III. The LMM and the Broad Institute combine key strengths of two leading laboratories in the clinical genomics space. Together, the laboratories will create a seamless CLIA-grade process for generating and interpreting genomic sequence data for eMERGE III, return clinically interpreted results to eMERGE sites and provide infrastructure to manage these results over time as new information emerges. This partnership capitalizes on the Broad Institute's expertise in high throughput genomic sequencing and data analysis and on LMM's expertise in clinical genomic result interpretation as well as its knowledge management and clinical reporting infrastructure.
Baylor College of Medicine Human Genome Sequencing Center (HGSC)
Principal Investigators: Richard Gibbs, PhD

Baylor College of Medicine serves as one of two centralized genome sequencing and genotyping facilities in Phase III. The work will be performed within the Baylor DNA Diagnostic Laboratories, a collaborative effort of the Human Genome Sequencing Center (HGSC) and the Department of Molecular and Human Genetics (DMHG), merging the complementary expertise of both groups to enable CAP and CLIA certified clinical sequencing tests. The group has generated and reported whole exome sequencing (WES) results for more than 8,000 cases, with approximately 25% of patients receiving a diagnosis. The has also analyzed samples from more than 40 different targeted custom gene panels.
External Scientific Panel
Click on the site below for more information:
University of North Carolina, Chapel Hill
Chairperson: Howard McLeod, PharmD

The Network receives regular guidance from a panel of experts, external to the Network member sites. The External Scientific Panel (ESP) holds annual conference calls with the principal investigators from each site, and the ESP additionally attends one in-person meeting each calendar year. Recommendations from the ESP are gathered and addressed by the PI Group and disseminated through the Network for response and action by each.
Members: